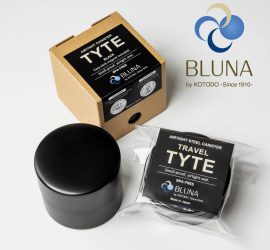 TYTE -Airtight Canister-
Smell-proof, Durable Canisters.
TYTE canisters are the perfect accessory when you need an airtight and smell-proof container. This sleek canister is perfect for storing spices, teas, cannabis flowers, hemp, and medicine. With this in mind, the lid was designed to be difficult for children to open for their safety.
These canisters are made out of steel and come in black and natural wood designs.
Made in Tokyo, Japan. BPA Free.
「US.PAT.11,332,289」
「JP.PAT.6923139」「JP D.PAT. 1667234」
BLUNA is a new subsidiary of KOTODO.
All TYTE products are branded by BLUNA.
Follow BLUNA's Facebook Page & YouTube Channel !!
Product Lineup